Elkanah Ranch

Elkanah Ranch was founded in Gatesville Texas by Liz and Jeff Spooner in 2007. The ranch raises registered AQHA horses bred for ranch work. These are offered for sale as weanlings through to started youngsters. We also provide training for both the horse and the rider so that each can find a trusting partnership. With the purchase of additional land in 2011 the ranch doubled in size and branched into boarding horses as well.
In 2015 Liz retired from the US Army and accepted a position with OU Tulsa as Chief of their Peninatal Department. Because of this the ranch in Gatesville was sold and was moved to the Tulsa Oklahoma area (Spoon still claims to be Texan!).
This ranch adventure is a labor of love and has truly been a blessing from God. We strive to keep that in mind and provide quality horses, training, and cattle at a reasonable price anyone can afford.



---
Liz Spooner

Liz grew up on a dairy farm in the Shenandoah Valley of Virginia. She graduated from UVa and then the Medical College of Virginia. After a residency in Ob/Gyn and practicing for a few years she completed a fellowship in Maternal/Fetal Medicine.
She served as a Colonel in the U.S. Army retiring in 2015 after a distinguished career. Currently, she is a professor and MFM doctor with OU in Tulsa. Her medical expertise is essential in maintaining the health of the herd, especially the brood mares and newborn foals. A truly remarkable woman, she has personally saved women, babies, mares, and foals (and Spoon) who would have perished without her help.

---

​Brii ​​
Brii is our all around ranch hand and number one cowgirl. She is one of the only people ever found that Spooner can say "Take care of things while I'm gone." and know that the horses, dogs, cats, chickens and everything else will be well taken care of as he would do it himself. She has a heart that knows dogs and horses better than most everyone else. God has truly blessed us with her.

---
Jeff Spooner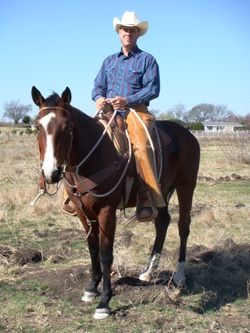 "Spooner" / "Spoon" (he answers to most anything) was born in Arizona where he spent most of his formative years. He moved with his family to Virginia where he graduated high school and then from Radford University with a degree in Criminal Justice. He spent many years in law enforcement in Virginia handling canines and training canine teams. Toward the end of his career Jeff was the Chief Training Officer in charge of all basic training schools for a regional police academy. He and his canine Marko were the first recipients of the Virginia Police Work Dog Association's Award of Valor. Jeff was declared an expert in canines by the Circuit Court of Montgomery County and affirmed by the State Appeals Court.
He then studied horses under many different clinicians, most notably Buck Brannaman and the late, great Ray Hunt. He has worked on ranches in Virginia, Oklahoma, Hawaii, Wyoming and Texas. He takes care of the day to day operations at Elkanah Ranch as well as teaching clinics, shoeing horses, starting colts, watching the grass grow, and enjoying fine cigars and whiskey.
---
| | |
| --- | --- |
| | BESSI​E - Bessie is a blue healer that came to us from Fuzzy Friends Rescue in Waco Texas. Formerly in charge of chaos, confusion, and disorder she now is Spoon's shop dog. Highlights of her day are sitting in a lap and sleeping. |
MIA ("Mierda" It's Spanish. Look it up.)

Mia is a full blooded AKC German Shepherd. She came to Elkanah Ranch straight from the Walmart parking lot at Liz's pleading during a weak moment in Jeff's life. Her job at Elkanah Ranch is as of yet undefined (but "by God she better be on the payroll soon!" - JWS).
November 2012 - Mia seems to think that her job is to help Jeff practice Anger Management.

2014 - Mia has matured into a lovable lug of a dog. She still keep Spooner aggravated but does listen well (and sometimes even obeys).


Helen and Stevie

Helen (yellow kitten) and Stevie (black kitten) were unintentionally adopted as orphans at three days old when their mother escaped while Spooner was forced to try to relocate them. They survived being bottle fed and now provide enjoyment and frustration with their antics. Helen specializes in intimidating visitors while Stevie enjoys fetching and playing with ice cubes.
Contact Information
To contact us please send an email to:
JSpooner@elkanahranch.com
; write us at: Elkanah Ranch, 25755 Howard Rd., Morris, OK 74445; or call us at: 254-383-4651.
Copyright 2017 Elkanah Ranch, 25755 Howard Rd., Morris OK 74445 All Rights Resverved