SERVICES AND CLINICS OFFERED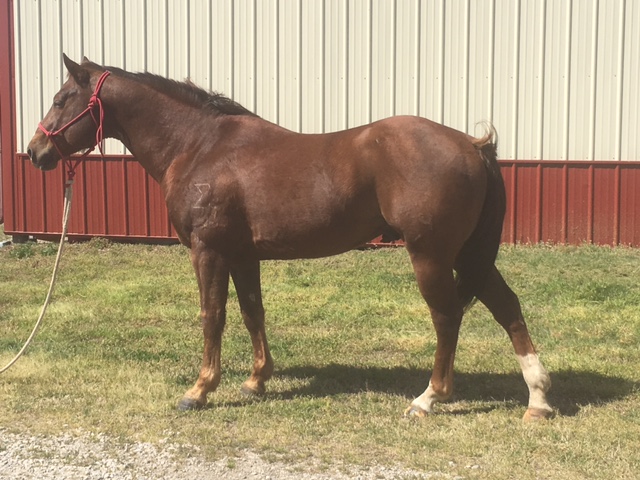 | | |
| --- | --- |
| | STUD SERVICES: Beginning 2014 we are now offering stud services of our stud "Four Chex Gray San" (AQHA# 5284544). He is a sorrel gelding that was purchased at the Best of the Remuda sale in Fort Worth in 2011 from the Haythorn Land and Cattle Company in Nebraska. He has a pleasant disposition, is very trainable, and is very calm under saddle. His first foal crop (of two) resulted in a red roan (out of a red roan mare) and a blue roan (out of a blue roan mare). Current fee is $350 which includes everything (no extra for pasture mare care, candle light, wine, romantic music, full moon, or anything else). |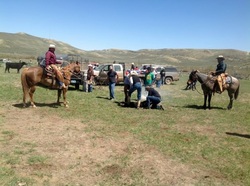 Horsemanship/Cattle Working/Ranch Roping:

We are now offering these very informative clinics jointly with trainer Tom Davis at his ranch in Weatherford Texas. The clinic starts with the foundation of horsemanship then moves onto cattle handling and wraps up with ranch roping on the third day. If you want to move your cowboy skills to the next level, or learn more about the interesting world of the vaquero, this fun-filled weekend is for you. Cost is $450 (Not too shabby for three days with TWO clinicians!) Call or email us or call clinic coordinator Traci Davis at 254-433-0806.


---
Horsemanship Clinics: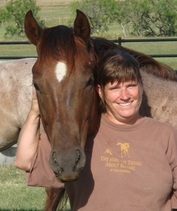 Our horse handling clinics teach true horsemanship with "feel". We study the relationships and natural conflicts between man and the horse. We learn how to overcome the conflicts and use feel, timing, and balance to become partners with our horses. This class is always highly rated. You will enjoy this class, develop a new understanding of your horse, and get plenty of chance to work hands on with young colts. Your progress during this two day course will amaze you! Fee is now reduced to $165 per person for this two day clinic!
Contact us for more information.
---
Colt Starting Clinics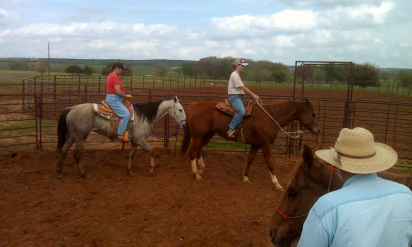 We are excited to be offering our three day colt starting clinics. Participants bring their own colts to start (if you are interested and don't have a colt to start we may allow you to start one of ours pending an interview by a very picky Jeff). Using the methods taught to him by Ray Hunt, Jeff works with each colt and participant to help them both start as partners in a wonderful journey. The price of $250 is a steal! Give your horse the great start it deserves! If you are concerned about being the first on your horse or don't think three days is enough, then talk to Jeff. He can offer suggestions for your concerns. Auditors are welcome (bring a lawn chair). The fee for auditing is $30 per day or $75 for all three days if paid in advance, including lunch. Reservations required five days in advance if you want lunch. NOTE: The first years colt startings were a blast! Some very nice colts made great progress.
---
Ranch Roping Clinics: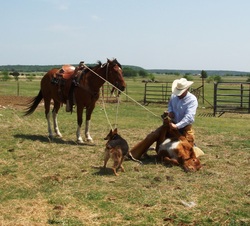 We offer ranch roping clinics. This style of roping is typically used at brandings. It is a calm, low stress way of handling horses and cattle. It is not about speed. It is about horsemanship, skill, and finesse. The roping instruction is geared to the specific level of the students. Proper technique, horsemanship, and safety are stressed to bring out the best of your ranch roping. We start with roping the dummies from the ground, then from the saddle, and then to roping live cattle. Small cattle are used for beginners and the size of the cattle is increased as the skills of the ropers increase. Generally, all new ropers are roping and holding calves by the end of the clinic. Fee is $195 per person for these two day clinics which includes cattle fee and dinner both days. Ranch ropes are available for purchase. Contact us for more information.



---
Horsemanship / Riding Camp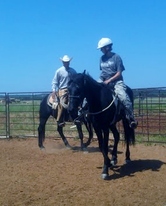 We are conducting a unique camp this year. The clinic will run Monday through Saturday. During the week the class will meet from 6:00 - 9:00 each evening. (We can ride 'under the lights' if need be.) Saturday will be all day from 9:00 - 6:00. Dinner will be served on Saturday 'round about noon. We start with ground work and quickly progress to under saddle work. "Feel" will be stressed in all phases of the work. We will progress at a fun and enjoyable pace working on specific problems that the students want help with ("pot-luck style"). Safety and enjoyment of the relationship with your horse will be stressed. Don't miss out on this clinic. Fee is $200 for the whole week!
Update - Last year's clinic was a wonderful experience for all the participants and spectators. Saturday saw everyone's concerns turn to big smiles! Don't miss out on next year's clinic.
---
Colt Starting: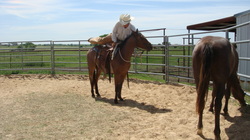 Many people think that they can save a few dollars trying to start their own colts only to have to bring in someone else to fix ("He just needs someone to put some miles on him.") the horse later. This costs them more in the long run. Your horse means too much to you. Don't make this mistake. Using the methods taught him by some of the most gifted horsemen in the country including his mentor the late Ray Hunt, Jeff starts colts with empathy and understanding. Our prices are reasonable (starting at $750), our methods sound and gentle, and our results are .... well, come see for yourself.
---
LEADERSHIP / COMMUNICATION CLINICS ("Cowboy Logic"):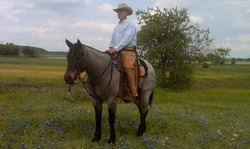 Our leadership / communication clinics are designed to help
people better understand and lead other people. These are day long clinics of often 10 - 12 hours. Participants gain a better understanding of how to deal with people by understanding how a true horseman deals with horses. Clients have included the University of Virginia, public schools, as well as many youth groups and church groups. Contact us for more information. Fee is $95 per person with a minimum of five participants. Campfire dinner included.
---
Consults and Lessons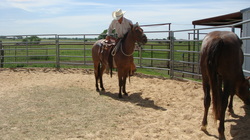 One time consults as well as riding lessons are offered. A three to four hour one time consult is $100. You will learn more about your horse and yourself than you can fit in your saddlebags.
Lessons are offered at four one hour long lessons for $100. Jeff will ride with you to be right there with you to evaluate and help you make the best of your relationship with your horse.
---
Dog Training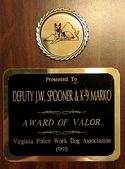 Jeff's experience as a certified trainer of police canines by the North American Police Work Dog Association, along with certification by the VA Court of Appeals as an expert in police canines is used to help you and your dog. Along with teaching you how to teach obedience, Jeff can train most all areas including scent work. Contact us to set up lessons or a one time consultation. Fees are based on services provided.
---

Copyright 2017 Elkanah Ranch, Morris, OK 74445 All Rights Resverved